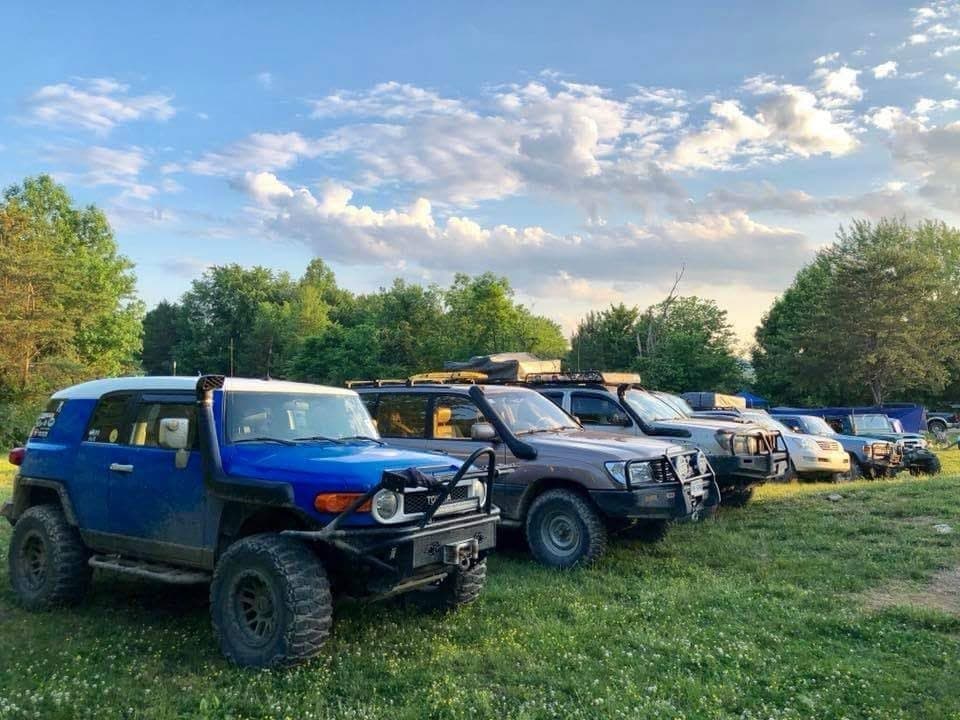 GSMTR 2020 is over, and it was a blast!
With the support of our attendees and our awesome sponsors we had a great time at GSMTR 2020 despite the setbacks with the ongoing Covid pandemic. See below for details from the event. Be sure to check out our sponsors and the services and products they offer to the Toyota and overlanding community!
We have reached our maximum capacity for GSMTR 2020. If we have additional registration spots available we will open registration back up on this page.
The STLCA is committed to carrying on the tradition of the Great Smoky Mountain Trail Ride for the 29th year. Unfortunately, COVID-19 has caused many things to change in the way we can socialize. That being said, we are implementing some additional changes to this year's event. Earlier this year we made the difficult decision to reschedule GSMTR to October 26th – 31st, 2020. In an effort to keep our staff and participants safe, we have decided to make the following changes for the 2020 event. We are limiting the number of driver registrations to 100 this year. In addition, there will be no onsite registration available. We feel that by taking these precautions we can minimize the risk to all of our attendees. We will take necessary measures to help you follow social distancing guidelines during the event. We also ask that if you or anyone in your family is sick, has a fever or you think you may have been exposed to COVID-19, please stay home.
We will continue to update you to any changes that may be necessary as GSMTR 2020 approaches. Thank you for your patience and we look forward to seeing you at Windrock Park in the Fall!
Our event committee has made arrangements with Windrock park to secure the new dates. If you had registered for GSMTR by April 13th, your registration will be transferred to the new date automatically. If you haven't registered yet, we are going to keep registration open until September 15th. If you are unable to attend GSMTR due to the date change, let us know and we will be happy to use your 2020 registration for GSMTR 2021 scheduled for June 14th – 19th at Windrock Park. If needed we can also issue a full refund for your 2020 registration. If you have cabin or RV reservations with Windrock Park for June, please contact them at 865-435-1251 to cancel. You can make reservations for October by calling the number above or by visiting stayatwindrockpark.com. If you have any questions, please reach out to us at info@stlca.org or by messaging us on Instagram, Facebook or IH8MUD.
We appreciate you supporting the Great Smoky Mountain Trail Ride and look forward to seeing you October 26th – 31st 2020 at Windrock Park in Oliver Springs, Tn. Register today at www.stlca.org/gsmtr. Stay tuned to Instagram, Facebook & IH8MUD for more information.
Thank you for you interest in the 29th annual Great Smoky Mountain Trail Ride. The event will be held October 26th – 31st 2020 at Windrock OHV park in Oliver Springs Tennessee. Windrock has over 300 miles of trails and covers over 72,000 acres. Whether you're a beginner or a hard core off roader, Windrock has something for you. We will offer easy and moderate guided rides Monday thru Friday for those who would like to join. For the more adventurous, you are welcome to hit the trails on your own. Windrock has multiple cabins available for rent as well as RV camping with full hookups. Visit www.windrockpark.com for more information about camping and trail use fees.
Your drivers registration includes the following:
Drivers event shirt
Event goodie bag
Event decal/sticker
Driver's raffle ticket
Thursday night tacos, Friday night burgers & hotdogs and Saturday night BBQ dinner catered by Buddy's Barbeque
6 nights of primitive camping inside the event area
Please read the following additional important information about GSMTR 2020:
Raffle tickets will only be sold to registered drivers and their guests. Raffle tickets can be purchased during checkout and available for $1.00 each at the event.
You will be required to pay Windrock for the daily use fees for the trails.
Additional guest 13 and older are $15.00 each which includes Thursday, Friday and Saturday night meals as well as camping inside the event area.
Children 12 and under are free.
Additional event shirts can also be purchased for $15.00 each.
All registered guest will receive a colored event wristband. Wristbands must be worn at all times during the event. You will not be allowed to eat at meals or buy raffle tickets without the required wristband.
Contact Andy Scott at ascott1174@gmail.com with any questions. No cancellations will be accepted after September 26th 2020. **A 10% cancellation fee will apply to all cancellations to cover associated fees.
If you would like to come early or stay late, Windrock is open 24/7 365 days a year. The event camping area will not be open until Sunday October 25th. The event camping area must be vacated by 11:00 AM Sunday the 1st.
GSMTR 2020 Details
General Rules and Information
Please use low headlight beams only when entering the camping area!! Drive slowly, make no dust and watch for children and dogs. Observe the park's 15 MPH speed limit on Park Road and respect quiet time after 11:00 pm.
All times listed are Eastern Time (ET)
Guided Trail Rides
We will have easy rides and moderate rides for the guided trail ride options. Easy rides are for newer drivers or for those wanting to ride stock friendly trails and do some "sight-seeing" rather than test their rigs on the rocks. Moderate rides will typically require a rear locker (can be substituted with driver skill and/or winch), winch, sliders, and other vehicle modifications. The easy ride will line up at the blue flag. The moderate ride will line up at the red flag.
Guided Ride Procedures
Please ensure you sign up for a ride at the pavilion the day before so we can coordinate enough trail leaders.
Guided Trail Rides will form up at 9:30 am for a drivers meeting and will depart from the pavilion at 10:00 am Monday – Friday.
Our trail leaders are experienced wheelers, so if you are new or inexperienced they will help spot you through any rough spots, and if needed will help winching, etc.
Please show up with a full tank of fuel, Windrock Park ride passes, and enough food and drinks for the entire day as these are all day rides. There is a gas available in Oliver Springs or at the Windrock Park General Store which is a 10 minute ride (one way) from camp.
Check-in/safety inspection is required for all vehicles and is available during checkin from 8:00 am to 10:00 am and 6:00 pm to 8:00 pm Monday through Friday.
Schedule of Events
Every Day/Night Events
7:00 pm Campfire at the Pavilion! Every night there will be a fire to gather around and share stories about our rides throughout the week so grab your camp chair and favorite beverage and come and hang out.
8:00 am – 10:00 am; 6:00 pm – 8:00 pm Check-in/Safety Inspection at the Pavilion
Monday, Oct 26th
10:00 am Guided Trail Rides Depart (9:30 am Drivers' Meeting)
Tuesday, Oct 27th
10:00 am Guided Trail Rides Depart (9:30 am Drivers' Meeting)
Wednesday, Oct 28th
10:00 am Guided Trail Rides Depart (9:30 am Drivers' Meeting)
7:00 pm Corn hole at Pavilion
Thursday, Oct 29th
10:00 am Moderate Guided Trail Ride Depart (9:30 a.m. Drivers' Meeting)
11:00 am Stock Friendly Ride to Prison Departs (10:30 am Drivers' Meeting). This ride goes through Windrock Park to the Brushy Mountain Penitentiary. Visit www.tourbrushy.com for a list of associated cost to tour & eat at the penitentiary.
6:00 pm Tacos and Refreshments at the Pavilion*
7:00 pm Corn hole at the Pavilion
Friday, Oct 30th
10:00 am Guided Trail Rides Depart (9:30 am Drivers' Meeting)
6:00 pm Cookout at the Pavilion (hamburgers, hot dogs, and refreshments)*
7:00 pm Corn hole tournament! Winning team gets 100 raffle tickets, second place gets 50 & third place gets 20.
Saturday, Oct 31st
9:00 am – 12:00 pm Blind Fold Driver's Race. The team with the fastest time gets 100 raffle tickets, 2nd fastest gets 50 and 3rd fastest gets 20.
11:00 am Ladies Trail Ride Departs (10:30 am Drivers' Meeting). Female drivers only for this one but male passengers are allowed.
5:00 pm Buddy's BBQ Dinner*
7:00 pm Raffle Begins!
Sunday, Nov 1st
Most folks pack up and hit the road. You may ride trails but you must be out of the group camping area Sunday morning by 11:00 am. You may move to the parks camping area and pay the park for additional days of camping if you wish to stay. Please also remember to remove all trash from your camping area. There is a dumpster at the gate just outside of the event area.
* We like dogs but please leave them at your campsite during meals, Thanks
** In order to control our cost and in accordance with TLCA event rules, in the event of a request for a refund, the Southeast Toyota Land Cruiser Association shall enforce a policy of charging a 10 percent service fee for all registration refund requests. This fee will be charged in all cases of cancellation. There will also be no refunds of membership dues. The final date to request a refund will be 30 days prior to the first scheduled day of the event.